Rural Broadband


BROADBAND INTERNET IS COMING TO YOU, OUR MEMBERS!!!!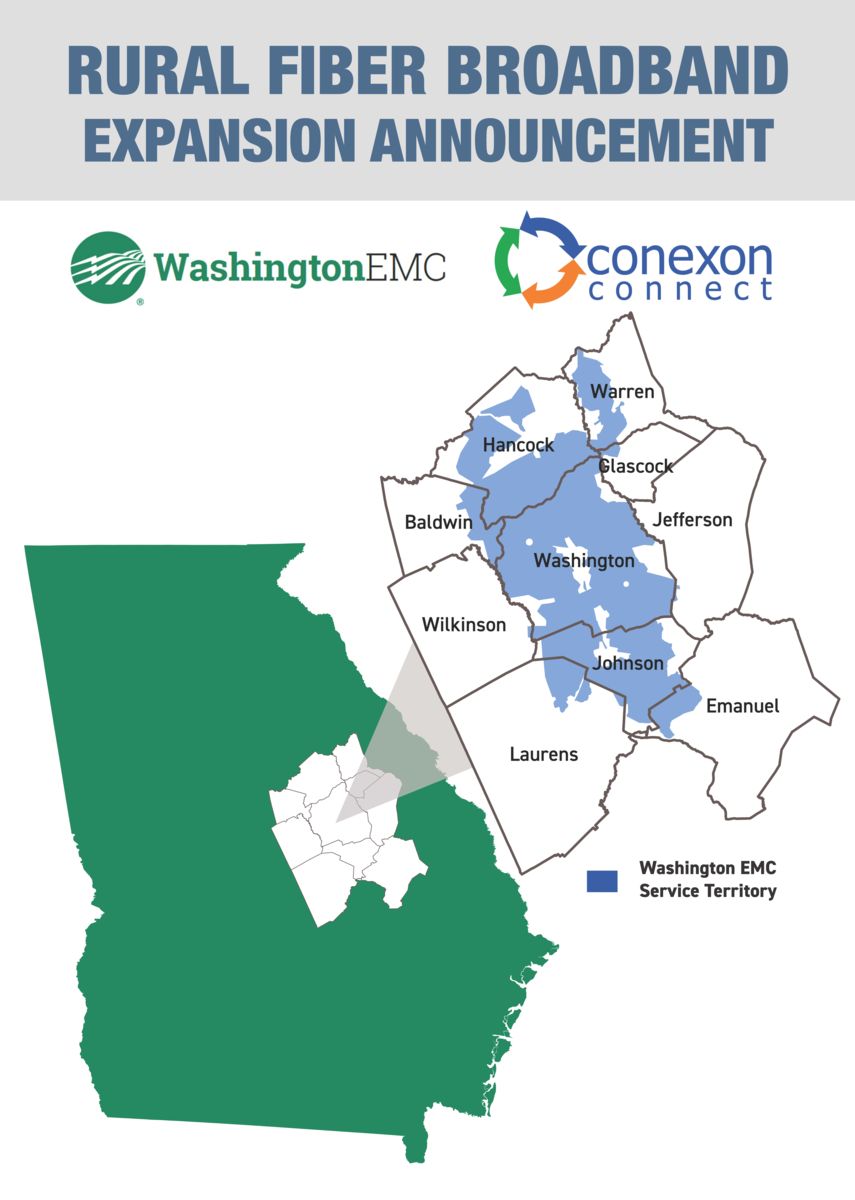 | Construction Metric | Detail |
| --- | --- |
| Fiber Miles Built | 1,132 miles |
| Substations in Service | 5 |
| Substations left to build | 6 |
| Meters with service available | 7,673 |
| Total Project Completion Estimaton | 7/31/2024 |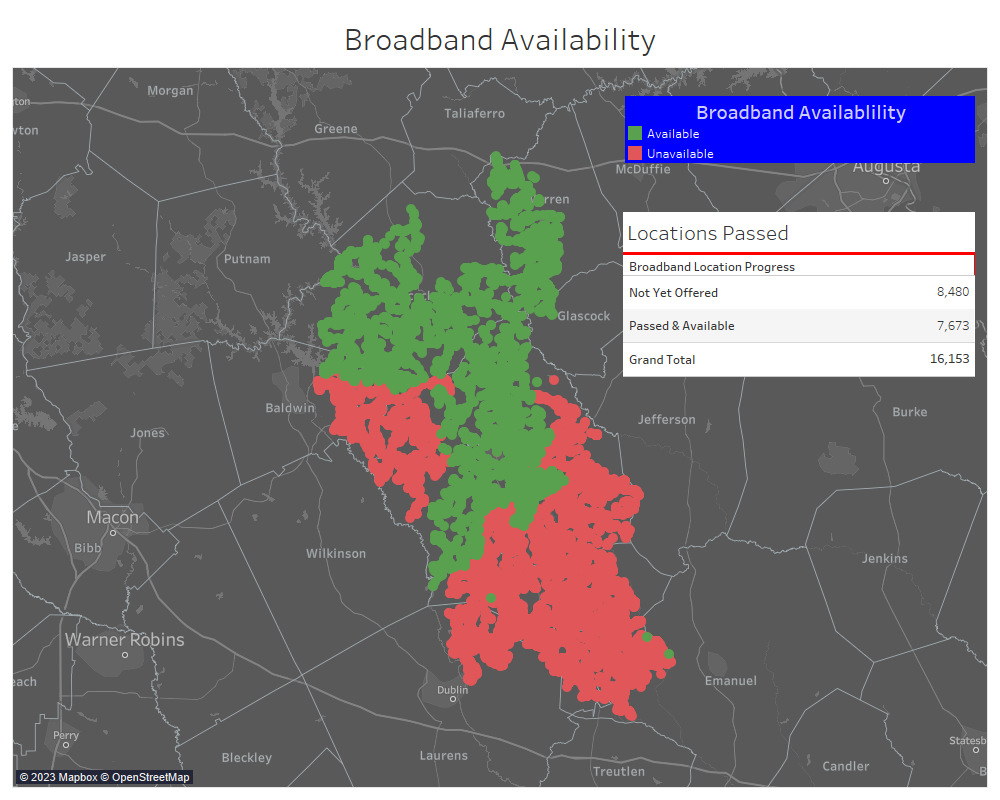 Washington EMC formed a new partnership with Conexon Connect to provide high-speed fiber internet to more than 12,000 homes and businesses in 10 Middle Georgia counties—Baldwin, Emanuel, Glascock, Hancock, Jefferson, Johnson, Laurens, Warren, Washington and Wilkinson.
The partnership includes a capital investment of more than $54.5 million with Washington EMC (WEMC) investing $52 million and Conexon Connect contributing another $2.5 million.
Under terms of the agreement, WEMC will partner with Conexon Connect, the internet services provider (ISP) arm of full-service rural fiber-optic broadband provider Conexon, to design and build a 3,000-mile fiber network that will serve two strategic purposes: provide improved electric service and increased reliability through smart grid capabilities, and provide high-speed internet access to all 12,200 WEMC members within the next three years, beginning as early as 1Q 2022. Conexon works exclusively with electric cooperatives and is considered one of the pioneers in the electric cooperative broadband movement.
WEMC will own the fiber and allow access to excess capacity to Conexon Connect, which has agreed to serve every EMC member with fiber-to-the-home internet speeds up to 1 gigabit per second. The internet service will be powered by Washington EMC fiber, but Conexon Connect will provide the retail service to homes and businesses, managing account set-up, customer service, operations, marketing and billing.
For More Information:
Frequently Asked Questions (FAQ)
About Conexon Connect:
Conexon Connect is the ISP arm of rural fiber-optic broadband leader Conexon. Conexon works exclusively with Rural Electric Cooperatives to bring fiber to the home in rural communities. Conexon Connect has multiple early-stage projects in rural communities throughout Georgia. Conexon offers end-to-end broadband deployment and operations support, from a project's conception all the way through to its long-term sustainability. We work with clients to analyze economic feasibility, secure financing, design the network, manage construction, provide operational support, optimize business performance and determine optimal partnerships. To date, Conexon has assisted nearly 200 electric cooperatives, nearly 50 of which are deploying fiber networks, with more than 200,000 connected fiber-to-the-home subscribers across the U.S. The company has secured over $1.3 billion in federal and state funding for its clients.
CONTACT:
Chad Davis
Washington EMC
(478) 552-2577 ext. 817
Cindy Parks
Conexon
(913) 526-6912